PRODUCTION EQUIPMENT FOR RENT
Professional video and sound equipment for your production needs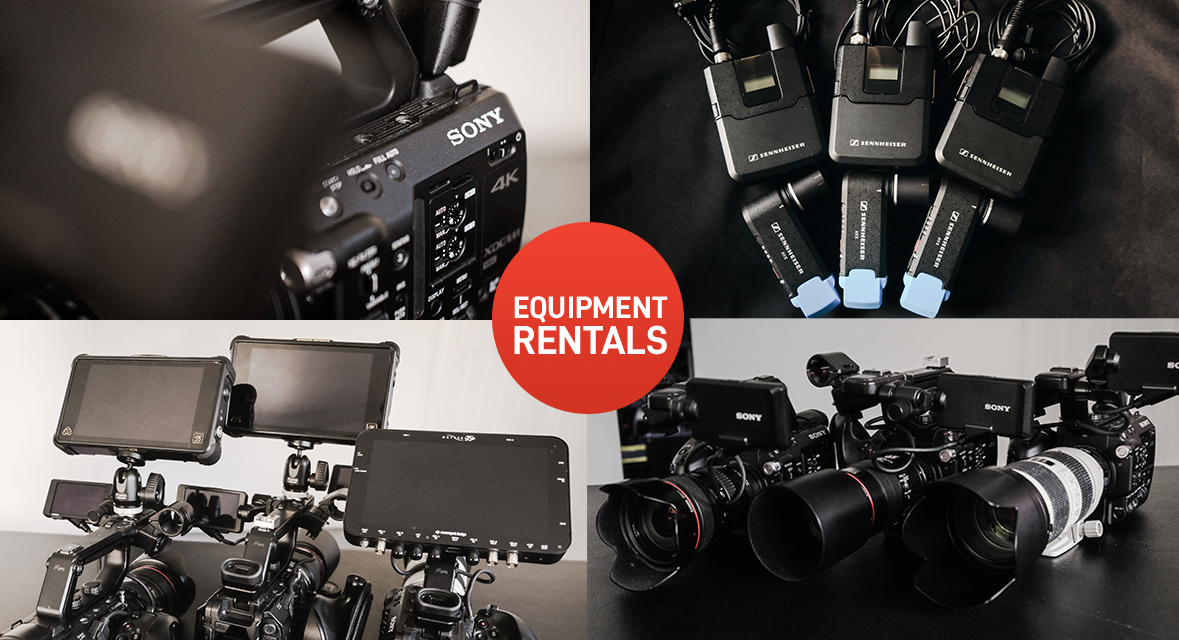 AVAILABLE EQUIPMENT FOR RENT
To book/inquire more about our equipment rentals, you may contact us via rentals@improd.net or call us at +63 2 960 9795
Cameras:
Panasonic Eva-1 – P15,000
Blackmagic Pocket Cinema Camera 4k – P10,000 ((includes Metabones Speedbooster to EF mount)
Sony PXW-FS5 Camera RAW Unlocked – P10,000 (includes Metabones Smart Adapter MkIV to EF mount)
Sony A7 III – P4,000
Blackmagic Production Camera 4K – P6,000
Blackmagic Cinema Camera 2.5K – P4,000
Canon 5D Mark III – P3,500
Canon C100 – P4,000
Fujifilm XT2 – P3,000
GoPro Hero 4 Black – P1,500
GoPro Hero 5 Black – P1,800
DJI Osmo – P1,500
Lenses:
Canon 16-35 f2.8L II – P1,200
Canon 24-70 f2.8 L – P1,200
Canon 24-105 f4 L IS Lens w/ hood – P1,200
Canon 100L 2.8 IS Lens w/ hood – P1,500
Canon 70-200 f2.8L IS II w/ hood – P2,000
Sigma 18-35 f1.8 Lens w/ hood – P1,500
Sigma 50-100 f1.8 Lens w/ hood – P1,800
Samyang 24mm T1.5 Cine Lens – P800
Samyang 35mm T1.5 Cine Lens – P800
Samyang 50mm T1.5 Cine Lens – P800
Samyang 85mm T1.5 Cine Lens – P800
Carl Zeiss 50mm f1.4 Lens – P1,000
Tamron 70-200mm f/2.8 SP Di VC USD w/ hood – P1,500
Tokina 11‐16mm f2.8 Lens – P1,000
Sony 18-105 F4 G OSS – P1,000
Video Assist/External Recorders:
Atomos Shogun Inferno – P7,000
Odyssey 7Q+ 4K/2K/1080P recorder (RAW compatible with Arri, C500, C300mk2, Sony FS5 etc) – P7,000
Panasonic LCD Broadcast Monitor (BT-LH910G) – P3,000
Swit Wireless HDMI Set – P2,500
Blackmagic HDMI to SDI – P1,000
SDI to HDMI Converter – P1,000
Live Sound:
Tascam DR70D Audio Recorder – P2,500
Edirol R4 4-Track Recorder – P3,000
Zoom H6 Recorder – P2,500
Sony URX-P2 Receiver Sony UTX-B2 Transmitter w/ Mic – P1,500
Sennheiser AVX-ME2 Set – P1,800
RODE NTG3 Boom Mic w/ foam & metal case – P1,500
RODE NTG2 Boom Mic w/ foam – P1,000
RODE Video Mic – P500
Lighting Equipment:
Kino Flo Diva Lite 400 – P3,000
Lite Panel 1×1 Bi Color – P2,500
Dracast Yoga Series LED500 Bi-Color Flexible Panel – P1,500
Aputure Lightstorm C120d – P2,500
Aputure Light Storm C300d – P3,500
Grips:
Manfrotto 504HD 546B Tripod – P1,000
Manfrotto 701 Sirui Tripod – P700
Avenger Century Stands – P500
Collapsible 5×7 Green/Blue Chroma – P800
Konova K3 Slider – P1,000
Syrp Genie – P2,000
Gimbals:
DJI Ronin MX – P5,000
DJI Osmo Mobile – P1,000
Zhiyun Crane V1.2 – P1,500
PLEASE NOTE:

Discounts/packages are available.
All rentals require a caretaker.
Rates indicated are for one (1) day rental only (equivalent to 16 hours).
Rates are exclusive of caretaker/crew fee. Rates are exclusive of 12% VAT.
Rates are valid for Metro Manila rentals only.
Transportation and proper meals for caretakers/crew are to be provided by the client unless agreed otherwise.